Overview
Knowing how bunions develop is helpful in selecting the appropriate bunion treatment. In general, most bunion deformities are a result of foot structure and function which are genetic. As the heel strikes the ground when walking, the joints of the foot unlock and absorb impact. Referred to as pronation, the arch collapses causing the feet to flatten. This flattening causes excessive tension of the tendon in the upper mid-foot that enables the big toe to bend upward. The tendon contracts which then forces the big toe to be pulled laterally toward the second toe. It can take many years for a bunion to develop, and especially to the point of pain. One can have a bunion but not yet experience any bunion pain. Conversely, one can suffer from bunion pain without having a severe deformity.
Causes
Bunions are among the most common problems of the foot. They are several possible reasons a bunion may develop, though a biomechanical abnormality (improper function of the foot) is the most common cause. In an unstable flat foot, for example, a muscular imbalance often develops that, over time, causes bunions. Bunions tend to run in families, and most podiatrists believe that genetic factors play a role in predisposing some people to develop bunions. Poor shoes, like high heels and pointed toe boxes--exacerbate the condition by speeding up the development of bunions, and by making bunions more painful. Poor shoe choices is at least one of the reasons bunions are much more common in women than men.
Symptoms
A bony bump along the edge of the foot, at the base of the big toe (adjacent to the ball of the foot) Redness and some swelling at or near the big toe joint. Deep dull pain in the big toe joint. Dull achy pain in the big toe joint after walking or a sharp pain while walking. The big toe is overlapping the second toe, resulting in redness, calluses, or other irritations such as corns.
Diagnosis
A simple visual exam is all it will take for your doctor to determine whether you have a bunion. He or she may also ask you to move your big toe in order to ascertain your range of motion. Your doctor may also look for any inflammation, redness, or pain. X-rays can help your doctor determine the severity and cause of the bunion. Your doctor may also ask you questions about your footwear, the symptoms you are experiencing, and if other family members also suffer from the condition. All these factors will help him or her diagnose you properly.
Non Surgical Treatment
This is probably the most important step. Wearing the right footwear can help reduce stress on a minor deformity and reduce the likelihood of it progressing. Recommendations are that the forefoot easily fits within the width of the shoe and there is adequate cushioning and arch support. Soft materials such as smooth leather, suede or fabric will also help to reduce irritation to the area. The podiatrist plays an invaluable role in managing patients with bunions. This is because they can offer a number of options to the patient that can help relieve pain and reduce the severity of the deformity. They can also reduce pressure on skin lesions that develop as a result of the biomechanical changes. Podiatrists can prescribe customised orthotic devices that help reduce the stress on a bunion and control biomechanical factors which cause them. These may be used in conjunction with bunion splints or cushions to further offload the area. Evidence has shown a significant reduction in pain with the use of customized orthotic devices.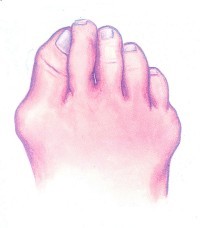 Surgical Treatment
Surgery isn't recommended unless a bunion causes you frequent pain or interferes with your daily activities. If conservative treatment doesn't provide relief from your symptoms, you may need surgery. There are many different types of surgical procedures for bunions, and no particular bunion procedure is best for every problem. If the bunion gets worse and more painful, surgery to realign the toe and remove the bony bump (bunionectomy) can be effective. Most surgical procedures include a bunionectomy, which involves. Removing the swollen tissue from around your big toe joint. Straightening your big toe by removing part of the bone. Realignment of the 1st metatarsal bone to straighten out the abnormal angle in your big toe joint. Permanently joining the bones the 1st metatarsophalangeal joint. It's possible you may be able to walk on your foot immediately after a bunion procedure. However, full recovery can take up to eight weeks or longer with some bunion procedures. To prevent a recurrence, you'll need to wear proper shoes and a foot orthotic after recovery. No surgical procedure is without risk and you may still have pain or you could develop a new bunion in your big toe joint after surgery.
tag : Bunions